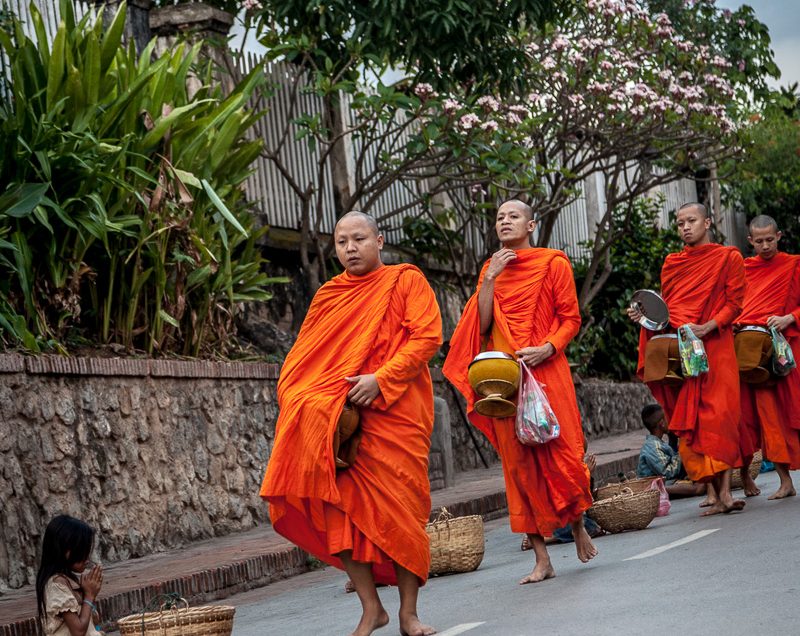 A damp coolness lingers in the air as a sea of vibrant saffron seemingly floats along a deserted narrow road in the faint early morning light. Framed by lush greenery and traditional wooden architecture a smattering of locals patiently sit with their bamboo baskets filled with sticky rice as they wait to give alms.  Witnessing this serene, special event also referred to as Tak-Bat was a highlight of my stay, however not every scene plays out with such reverence.
I couldn't even bring myself to raise my camera at the alms giving that took place just outside my hotel in Luang Prabang.  There were no other onlookers; I imagine this same event would have been repeated thousands of times in exactly the same manner.
Unfortunately, this was not the case in the centre of the Luang Prabang. Where I can only describe the Tak-Bat here as a circus which features these ridiculous camera-toting tourists jumping in, out and around the monks who were silently attempting to carry out this Buddhist tradition.   Despite the rules of conduct being well publicised around town, the behaviour of many left me incredibly conflicted about taking my own photos and the impact of tourism on this age-old ritual.
I was a little horrified to find it has almost become a "tourism experience" with visitors being given the opportunity to take part in the tradition and give alms.  The desire to give can only be commended but I question taking part in sacred religious rituals where there is no real association.  In some ways I think it makes a mockery of the situation.
Poor quality food is a further complication where some monks have become sick from rice given by some unsuspecting tourists, as this is purely a money making opportunity for some.
I moved away from the main street and to my relief I found a much quieter place where I could sit at a distance and take photos.  I am very thankful for my zoom lens!
---
---
You might also like
---