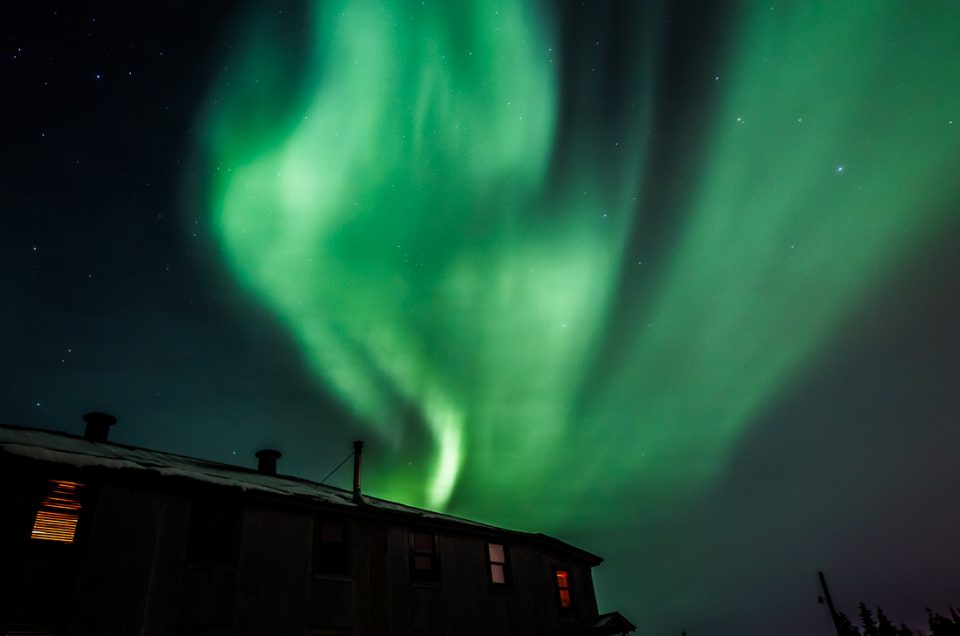 Wow, what a first day out at the Mount Aurora Lodge!
Located 30-40 mins from Fairbanks the lodge has sweeping views over the surrounding valleys from its hillside perch. A location that is perfect for aurora watching.
Housed in a converted gold miners dormitory the rustic, warm lodge has an open plan lounge/sitting/dining area that is just perfect for lounging around and gazing out at the incredible views.
Dinner was a fabulous surprise of a fresh leafy salad, some succulent scallops and delicious Alaskan King Crab legs with a side of asparagus and baked jacket potato. All washed down with a couple of glasses of Pinot Grigio.
Although there is always some doubt as to whether you'll see anything at all on any given night it is a total luxury to be able to head off to bed with the knowledge that there's a staff member on overnight aurora watch who'll come and wake you up whenever there's action.    To be honest I was absolutely exhausted and was pretty excited at the thought of a good night sleep. However,  just as i was drifting off came the hurried knock on the door – it was on! There was an aurora happening!   Not wanting to miss a minute, I don't think I've ever gotten dressed so quickly in my life.    
I  raced out to the front of the lodge and there it was streaming across the sky!    Standing there totally gobsmacked, I didn't quite know where to look or to point my camera – it was everywhere.    
The movement across the sky is graceful and slow, at times so much so, you don't even notice. What you do see is that every minute the view changes  –  so majestic and just simply beautiful!
Such an incredible experience. My only regret was that I didn't have a bottle of champagne to celebrate, toast and enjoy what would probably be one of the most amazing experiences I've had in my life.
---
---
You might also like
---