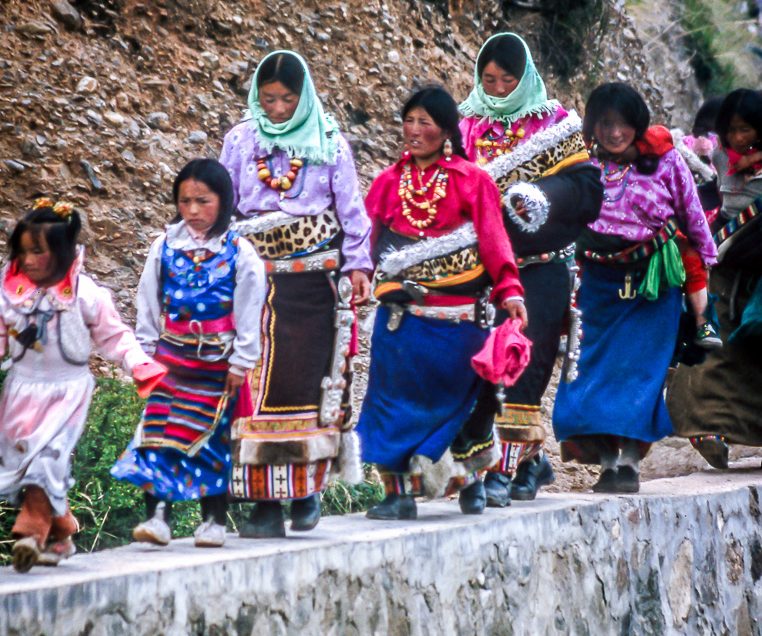 Straddling the Sichuan / Gansu border is the simply wonderful little village of Langmusi.
The first time I visited this remote outpost was back in 1997.   The location is simply stunning, located up on the sweeping grasslands of the Tibetan plateau.
There have been big changes since I first visited, apparently the roads in town have now been sealed – so no more of the muddy atmospheric images that feature here in this gallery.   There are more hotels available with hot water on demand and a selection of restaurants/cafes.  Back in 1997 there were no streetlights at night and just one small place to eat which by the way served the most amazing apple pies.     The yak burgers were pretty good too!
Altogether a totally wonderful find on a journey which was definitely a highlight for me way back then – tourism barely even raised a glint in the eye, however our presence certainly inspired more than the occasional glance.   As I recall sitting with a cup of "babao" or eight treasure tea by the fire in a restaurant in Xiahe, which used to be a full day's journey along bumpy dirt roads, having a nomad woman examining very closely.  Actually, when I say 'very closely', it probably doesn't give you the full picture – her face just a couple of inches from mine as she gave me a good inspection.
Langmusi has a fantastic monastery and was one of the few mainstream places where they still practiced the traditional Tibetan sky burial.
I absolutely loved this place the first time and was thrilled to return to spend a couple of days enjoying a Nomad Festival.  To read more about this festival click here.
---
---
You might also like
---